Austin's
Best
Window Cleaning
Here at Time Machine ATX we are committed to providing the best possible Window Cleaning service. Windows are one of the biggest investments that you will make when you purchase or build your home, we believe that they should be protected. Our technicians train for a minimum of 3 months before they are sent to your property alone. We insure that they know our 7 step window cleaning process by heart, as well as learning to identify different types of glass. Tempered, Triple Paned, Hydrophobic Coatings, Antique Single Panes, all have different requirements to be cleaned. We insure that our technicians have the knowledge and skills to clean all types of glass while preserving its integrity of your windows. 
Our
7 Step
Window Cleaning Process
Step 1: Evaluate and Protect
When Time Machine ATX enters your home (or office) our first priority is to protect it. Before cleaning each window we evaluate it, and any items to look out for. After looking for any fragile items (glass, plants, photos, ect.) that may be obstructing our process, and moving them to a safe area; we move any furniture, or protect it with our thick canvas drop cloths, as well as placing drop cloths under every window we clean. We raise your blinds with two hands, one on the pull cord, and the other lifting for support, and more any curtains. We also take this time to assess your glass for any damage or defects. Although not all are visible till after the cleaning, if we find any we will bring them to your attention immediately 
Step 2: Mopping the Glass.
We mop every window with an industry leading non-abrasive mop. Using a zig-zag pattern we coat the window with water, and our soap solution. Contrary to popular belief the solution doesn't actually do much cleaning. Its purpose is to reduce evaporation times as well as provide lubrication for our squeegees to glide across your glass as efficiently as possible. Our mops are designed to retain water and not leak when in use to keep your floors, sills, and our drop cloths dry.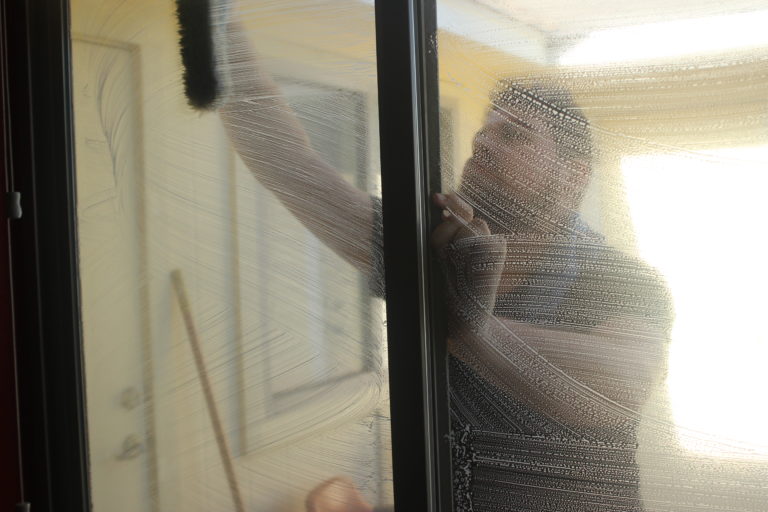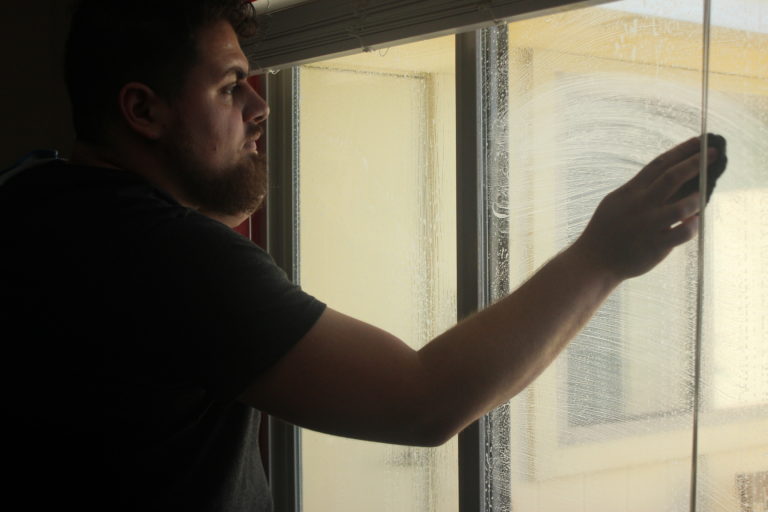 Not every window will be scrubbed with the same abrasive tool. Traditionally window cleaner's used razor blades, while these are great tools and have their uses, modern glass is much finer and is susceptible to razor scratches. While razors are a tool we use, our technicians will assess your window and insure that we are using the correct abrasive pad. We will then perform a thorough scrub of your windows, edges first then work our way across in a back and forward pattern until the entire window has been scrubbed. 
After a thorough scrubbing we will then move on to the squeegeeing of the window. our squeegees come in a variety of sizes and we only use the best available rubber on the market. There are many techniques for using squeegees, and we generally allow our technicians to use the method they find most effective. Similar to painting, it takes practice to find your style. After every window we wipe our squeegee blades in order to remove any dirt they may have collected as well as keeping them dry and preventing drips.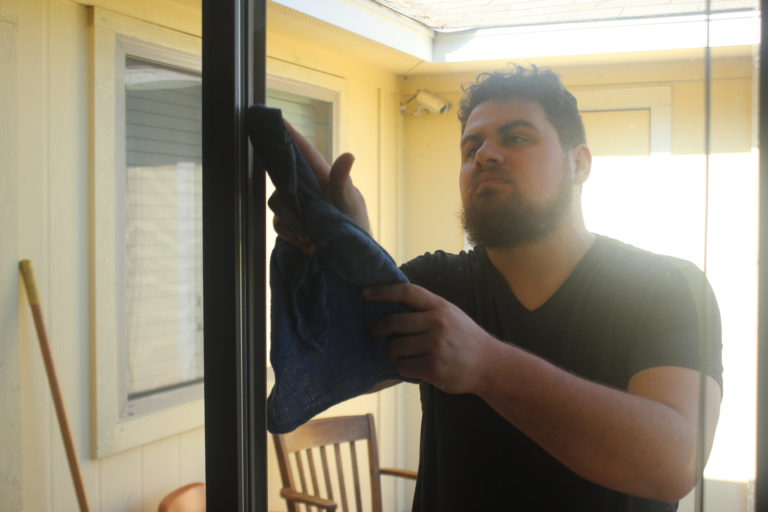 Step 5: Detailing the Glass
Windows generally must be detailed after squeegeeing. A small layer of drips accumulates along the edges that must be wiped. To protect your glass, we only use surgical quality microfiber towels. Starting at the top and working our way around we dry off every bit of glass and look for any imperfections that may have been missed in the scrubbing process, as well as any pre-existing damage or imperfections that may be hidden before the cleaning. As always if we find any, we will alert you immediately and discuss how we believe they happened, remediation (if available), and how to prevent future issues. 
Our technicians then take the time to lightly wipe down the frames and tracks of your windows. This is a light dusting, removing any loose dirt that may have accumulated, as well as drying the sills and any other water that accumulated during the cleaning process. A thorough track cleaning service is available for an extra charge for caked on dirt and a deep corner clean, however most customers are quite satisfied with our regular service.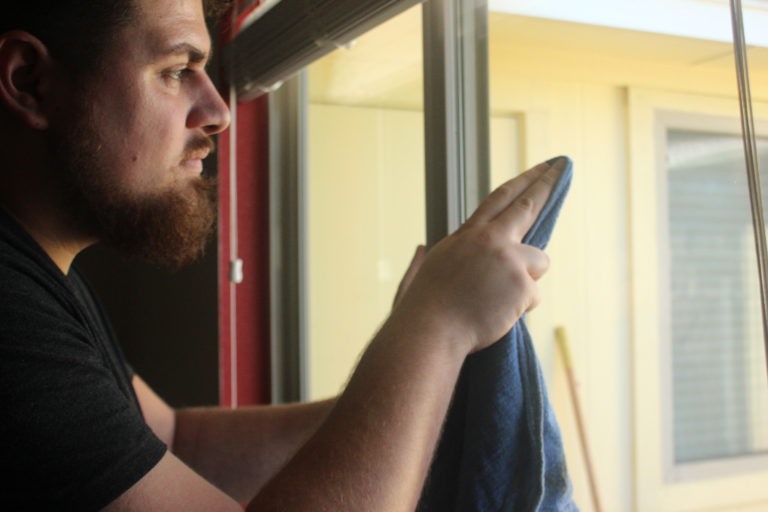 Before we move on to the next window, we thoroughly inspect the glass for any spots, pre-existing damage, smears, ect. We give the sills a final wipe, and brush any loose dirt onto our canvas drop cloths. We return any items or furniture to their original places, collect our drop cloths, and move onto the next window.