Its that time of year again, the family is coming over and we quickly run out of things to do. You can only laugh so much at your brother-in-laws bad jokes. Don't worry we're here to help with our Austin Holiday Guide.
Austin's Favorite Family Holiday Outings
Going to see Christmas Lights are a great way to spend the holidays with your family. Mozarts Coffee (3825 Lake Austin Blvd, Austin, TX 78703) is hands down the best Christmas lighting display in Austin. An amazing 10+ minute light show begins every 30 minutes. Park across the street and go enjoy a nice hot latte, coffee, or hot chocolate with your family and watch the amazing show. Want a little extra? check out their website for an event list of live musicians playing your favorite holiday classics.
Another local but further outing is to go out to see the Light Spectacular in Johnson City (about a 45 minute drive from Central Austin). With over 1 MILLION lights it really is a sight to see. Perdenales Electric Company outdoes al others with their yearly light display on at their headquarters, across the towns therefore you will see the local city hall lit up just as spectacularly. Its not coincidence they call it the "twinkliest town in the hill country".
A Great Brewery Tour and Day Trip.
There are a plethora of amazing breweries and wineries but in our hearts the best is the Shiner Brewery in Shiner, Texas. Start Early and and head straight to Shiner. With tours available Monday – Friday, 11 a.m., 1 p.m. and 4 p.m. and Saturday, 11 a.m. – 4 p.m. continuous, youll be sure to find a spot. Admission is $5 per person over 18 (free for those who are: 18 and under, first responders, clergy, active military service members, veterans ). We recommend making this leg of the trip on a weekday as the brewery runs 24/5 Monday through Friday. On Saturday the machinery doesn't operate so it can be a little dull.. Enjoy your tour, grab some samples (not so much you've got a long way to drive), visit the gift shop, and hit the road to your next stop!
Next stop on our day trip is antiquing in Luling, Texas. Come on in US 183 from Gonzales and turn left to follow 183. Then the first left on Davis st. Park and explore what Luling's amazing boutiques have to offer. No Austin prices here. You will find amazing Texas Gems that your family can take home and remember forever, be sure to eavesdrop on the business owners chats, there usually fascinating stories about life in Texas. We Love KK's Antiques and are sure you will too.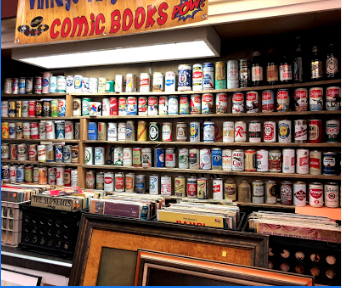 Our final stop on our Central Texas Tour is a stop at the BEST barbecue in Lockheart, TX (Capital of Texas BBQ). The big three Smitty's, Kreuz, and Black's are all good but our hearts belong to Smitty's. The original, and located in the town square, rumor has it that the fires have never gone out since the beginning and we believe it. The local gossips tell us that when Smitty Senior Passed on the tradition to his children he gave his daughter the building, and Son the original business entity "Kreuz Market", the relationship grew strained and Smitty's took Kreuz market to a new locality. When he left he took a few lit logs from the original pits over in a red ryder wagon walking it through town. Make sure to bring Cash as it is classically cash only. Meat is ordered in the smoke house out back and sides are available in the dining hall. NO FORKS!
Be sure to have a quick walk around the town square. Great wine, neat antiques, and a funky toy shop await you in the Lockheart town square.
Part 2 coming December 10th!