Austin's
Graffiti
Removal Experts
Self Expression is great, self expression on others property isn't. Here at Time Machine ATX we believe in self expression is great, but damaging property isn't.  We offer FREE Graffiti removal to any charity, non-profit, or public space (Parks, Community Spaces, ect.), as well as free removal of any hateful, degrading, or racist graffiti anywhere. As a part of the community we want to make sure our community is a safe and happy place for everyone. 
Austin's
Graffiti
Specialists
Graffiti is damage. Cleaning Graffiti can often result in more lasting damage if not treated properly. Painting over is not the best choice as it is usually obvious. Blasting away with a pressure washer works in some situations, for most it does not, leaving shadows of the graffiti or worse. Removal of paint, chipping of stone, etching of concrete, these are all damage that we've seen that makes the effects of the graffiti permanent.
This lovely piece of graffiti was pressure washed without treatment, causing damage to the cement's "cream". What would have been a minimum charge wash, and 30 minutes worth of work is now permanent damage. 
We proudly use World's Best Graffiti Removal products. The name is true to the product. We begin by protecting the general area of the treatment site, washing down and covering any plants. We then move to the first treatment step, applying the solution and allowing a wait time for the graffiti remover to begin breaking down the paints. After a low pressure rinse, reapplication is typically needed. We will preform these steps until the graffiti is gone. 
What remains is your original surfaces restored to before the damage. Sensitive surfaces can also be cleaned with success if we are contacted quickly. We also offer sealing of all types to create a barrier against future graffiti damage. 
Before
After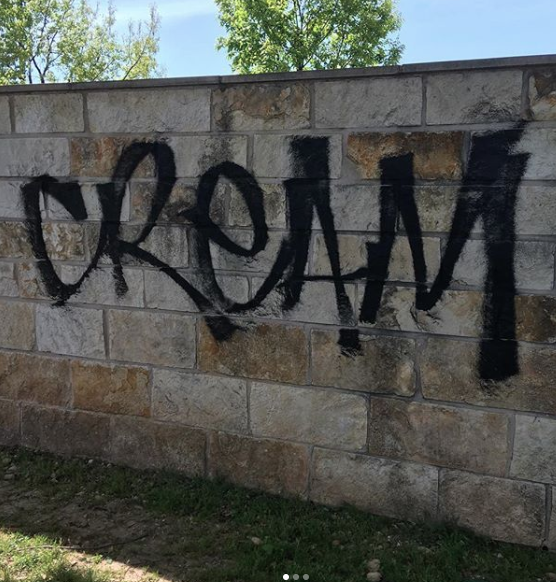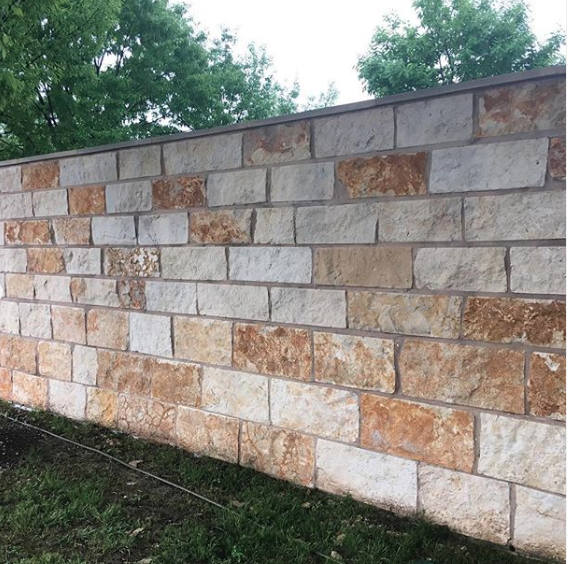 Before
After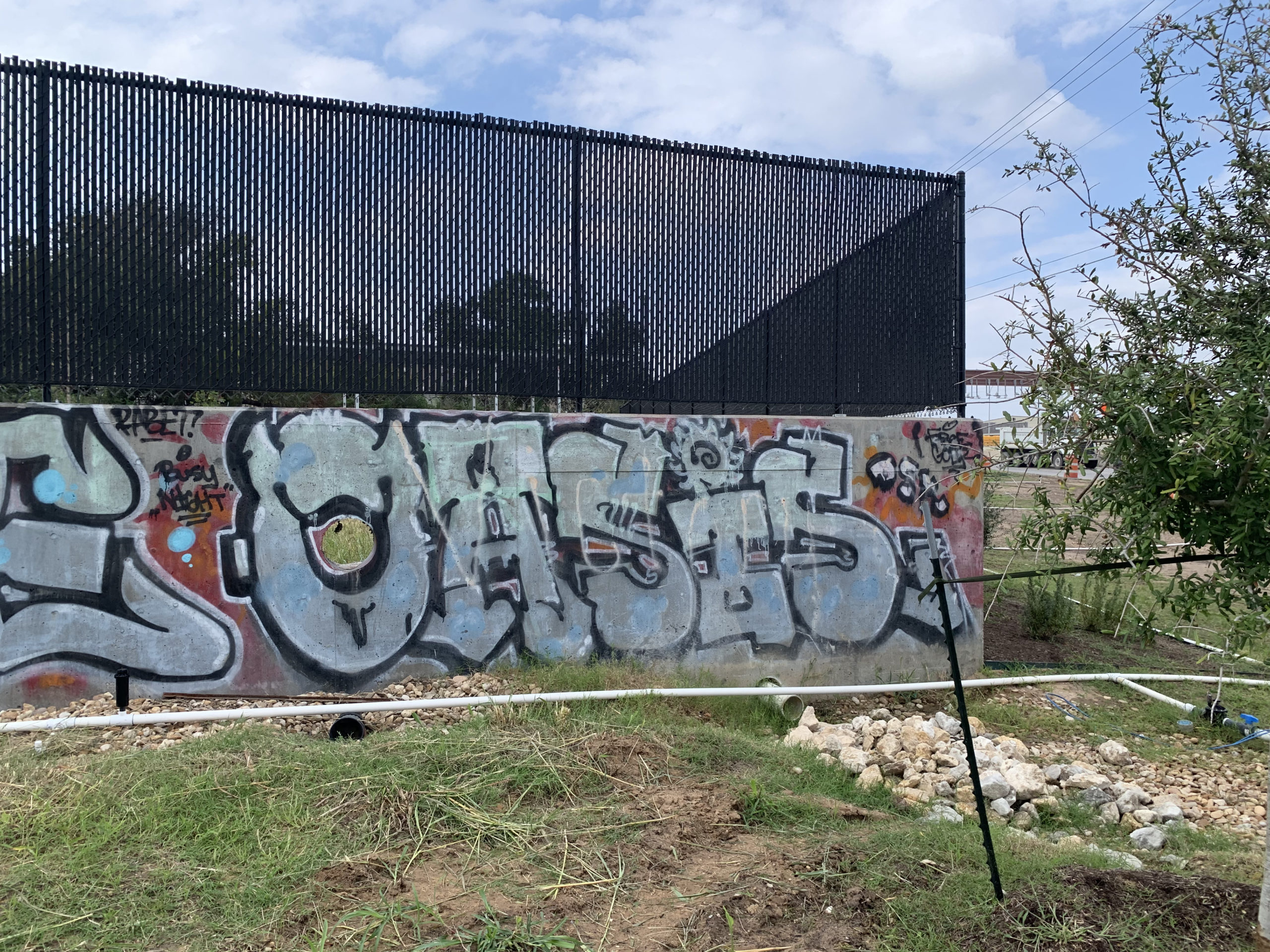 We remove graffiti from non-profits, charities, and community spaces free of charge with documentation. As always you can report hate graffiti community wide by texting our main line with a photo and an accurate description of the location. 
Non-profits must fill out the agreement below and email it to appt@timemachineatx.com. 
For graffiti removal in Austin, Time Machine ATX is your first choice for graffiti removal. In a town full of artists, some less scrupulous members of our community will inevitably be practicing their art on your property. Removal of this graffiti can be a simple process, or you can choose some less than great methods.
Many property owners choose to paint over the graffiti resulting in different shades of color on the wall, basically outlining the graffiti and inviting the "artist" to return or subconsciously encouraging others to paint the fresh canvas.
Another common idea is to just pressure wash this off, as with our other blogs we often point out that pressure washers are tools and that a person should be properly trained in their use. Check out this photo of graffiti cleaning in Austin's popular West 6th Street district.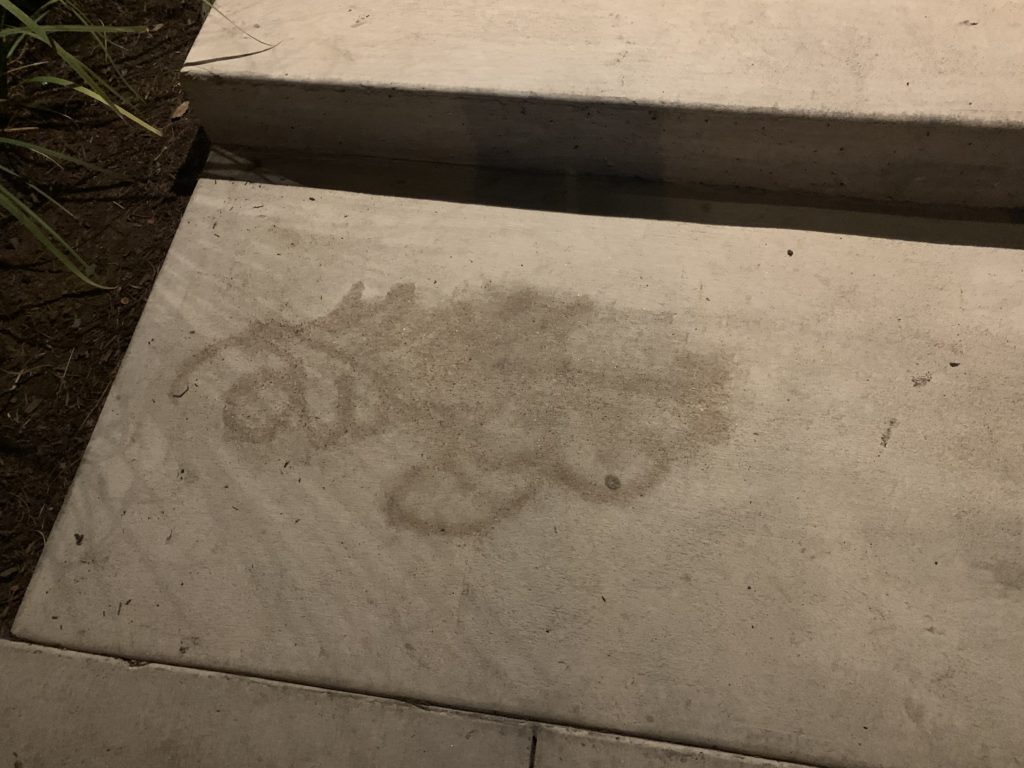 As you can see the concrete was permanently etched by an untrained pressure washer. The outline of the graffiti is now permanent giving the "artist" encouragement to strike again This is now damaged concrete and to repair would easily exceed $1000, where as a proper cleaning by trained technicians using specially formulated solutions would have cost less than $200. Trust Time Machine ATX for all your Graffiti Removal needs in Austin and the surrounding areas. With same week and emergency 24 hour appointments available we can get graffiti off your property in no time at all.
Are you a community space, or a non-profit? Time Machine provides FREE graffiti removal services to these organizations through our Removing Hate program. Find out more on our website.